Pucker Powder
Fun to Make and Fun to Eat!
Do you want a deliciously unique activity to entertain guests at your next party or event?
Rent a Pucker Powder dispenser, and let your guests make their own edible candy art!
Pucker Powder Packs Party Pizzazz!
How Do You Order and What Do You Get?
Pick any six flavors of Pucker Powder from the sixteen shown.

Select the "fun tube" size/quantity option that best suits your event:

180 tubes 6" long
90 tubes 12" long
60 tubes 18" long.



Contact Us or use our Reservation Form.
It's That Easy!
Need a great idea for a fundraising event? Ask how Pucker Powder can help!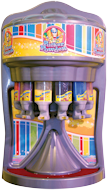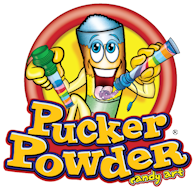 Sixteen Delicious Flavors To Choose From:
Sweet Flavors
Banana
Blue Gum
Strawberry
Rootbeer
Tropical Fruit
Vanilla
Birthday Cake
Sour Flavors
Peach
Blue Raspberry
Wild Cherry
Fruit Punch
Watermelon
Grape
Orange
Green Apple
Lemonade