The Full Court Press
A Slam-Dunk For Fun!
The Worlds first true interactive basketball game! Players must score all their colored balls on the opponent's side within 30 seconds to win.
The action heats up when you have to clear your opponents balls, and can't shoot your own.
Truly like real NBA full court press action, The Full Court Press is fast and frenzied, and lots of fun.
Can be quickly converted to standard basketball shots for single action play. Inflated hoops are durable and very effective.
15' L x 15' W x 15' H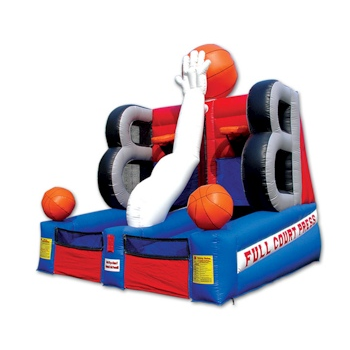 For Only $450* per Day, Get All of This:
The Full Court Press.
Any* one of our Concessions, including enough supplies to serve about 40 guests.
Any one of our Bounce Houses.
Offer valid any day of the week!
* Please Note: Premium Sports Interactives and Concessions are subject to an additional daily charge. Call for details.