The 40 Ft. Obstacle Course
Just the Right Amount of Fun!
Is looking for an obstacle course for your event making you feel like Goldilocks looking for a bed? This one's too big! That one's too small!
The 40' Obstacle Course features jump–through openings, pop ups, log jams, squeeze walls and crawl tubes!
Rest easy - The 40' Obstacle Course is "just right"!
Are You a "Papa Bear"?
You can even connect together all three for 98' of non–stop inline action!
40' L x 11' W x 10' H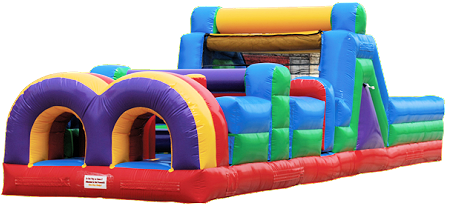 | MODULE(S) | SIZE | 8 HOUR FEE |
| --- | --- | --- |
| 40' Obstacle Course + Rock Climb Slide | 70' x 11' x 16' | $630.00 Reserve Now |
| 40' Obstacle Course + Vertical Rushsee it | 68' x 18' X 22' | $875.00 Reserve Now |
| 40' Obstacle Course + Vertical Rush + Rock Climb Slide | 98' x 18' X 22' | $1100.00 Reserve Now |